From Surviving To Thriving
March 13, 2022 @ 10:00 am

-

4:00 pm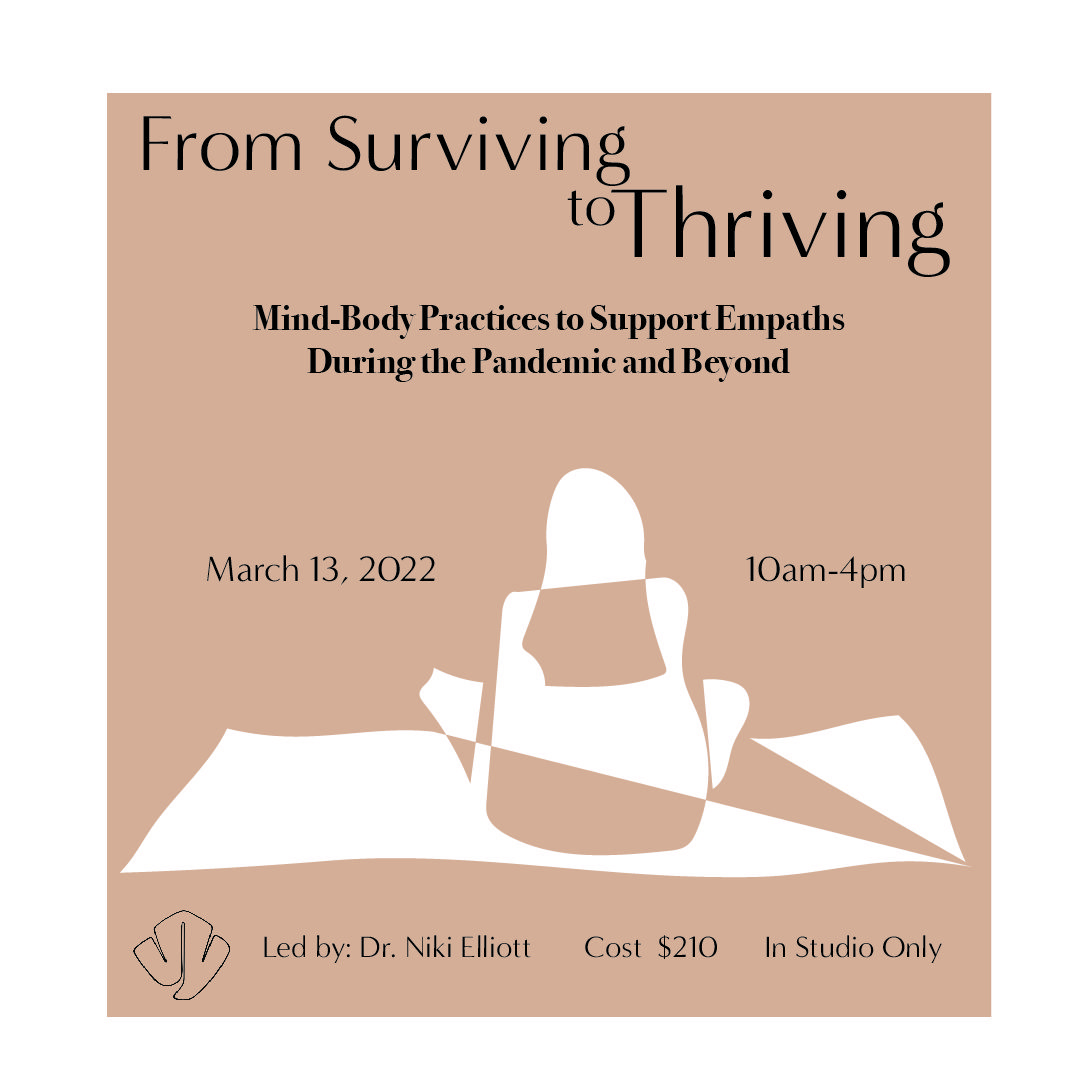 An empath is someone who seems to feel and absorb other people's energy, emotions, or physical symptoms. If you identify as an empath, you may be experiencing exceptional burnout, fatigue, or stress as you navigate this pandemic in your role as a helping professional or caregiver. If this describes you, please join us from 10 am to 4 pm on March 13th for an interactive workshop that will help you understand what it means to be empathic and how to utilize secular mind-body practices to strengthen your nervous system, establish healthy energetic boundaries with others, and connect with the gift of empathy. You will leave with a toolkit of strategies that can help you reclaim energy and vitality in your work and personal life. Most importantly, you will be surrounded by others who share your experiences and find strength in this connection.
This hands-on workshop will be facilitated by Niki Elliott, PhD, an intuitive empath who has spent the past 20 years helping highly sensitive adults and children move from surviving to thriving. Dr. Niki serves as the director of the Center for Neurodiversity, Learning, and Wellness at the University of La Verne. In addition to her role as a teacher educator, she trains extensively in mindfulness, clinical breath work, and healing-centered education. She leads transformative mindfulness and wellness retreats for school leaders, mental health practitioners, healthcare professionals, and parents of children with special needs. Niki is the author of I Feel Your Pain: A 7-Step Survival Guide for Empaths, Intuitives, and Highly Sensitive People. For more information about our workshop facilitator, please visit http://mindful-leaders.org.
Please come dressed for light exercise, breathwork, and energy balancing exercises. You may wish to bring a yoga mat, pillow and blanket. Please bring a journal and pen to capture insights from your practice. Lunch is on your own.